U.S. Transportation Leader to Address Global
Automotive Conference in Louisville
U.S. DOT Deputy Secretary Victor Mendez to discuss innovation in transportation
LOUISVILLE, Ky. (Aug. 6, 2015) – U.S. Transportation Deputy Secretary Victor Mendez, a longtime transportation leader, will deliver keynote remarks at the inaugural AutoVision Conference in Louisville on Sept. 15, the Kentucky Automotive Industry Association announced today.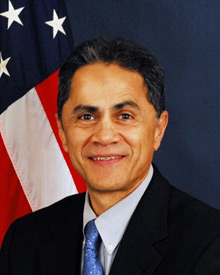 Mendez will discuss innovations in automotive technology and the critical role of the U.S. automotive industry. Before becoming Deputy Secretary, Mendez served as the Administrator of the Federal Highway Administration and Director of the Arizona Department of Transportation.
During his time at FHWA, Mendez parlayed his lifelong interest in innovation and technology into launching the Every Day Counts Initiative, which gives states a range of tools and technologies to streamline construction projects and make them more cost effective.
"We are fortunate to welcome one of our nation's most respected and experienced transportation officials," said Dave Tatman, KAIA executive director. "Deputy Secretary Mendez will bring timely, cross-sector information about how transportation trends will affect our industry, and in turn, how we can be proactive in adapting to those changes."
While serving at the U.S. Department of Transportation, Mendez has also been a pivotal and supportive leader in major transportation infrastructure projects in the Kentucky and Indiana region including the $2.3 billion Ohio River Bridges Project, the emergency repair of the Sherman Minton Bridge, and a $24 million TIGER grant for a key segment of the Mountain Parkway Expansion in Eastern Kentucky.
About AutoVision 2015
Mendez is one of more than two dozen national and international leaders speaking at the AutoVision Conference on Sept. 14-15. The two-day conference at the Louisville Marriott Downtown is the creation of the Kentucky Automotive Industry Association, the organization representing the state's $14 billion economic engine.
Major advances such as self-driving cars, lighter-weight vehicles and long-lasting electric batteries will be among the topics discussed by leading experts from across the nation and beyond. Leaders from Kentucky's major automotive manufacturers including Ford, General Motors and Toyota will be among the presenters.
Gov. Steve Beshear, a leader in the expansion of Kentucky's auto industry, will address the audience and the Kentucky Cabinet for Economic Development is the presenting sponsor.
Speakers, panel discussions and breakout sessions will focus on cutting-edge technology and timely issues, including workforce training and regulatory changes, to help position business leaders for opportunities and growth.
Get more information and register at www.autovisionconference.com.
About the Kentucky Automotive Industry Association
The Kentucky Automotive Industry Association (KAIA) was established to advance and promote Kentucky's automotive industry by providing leadership and creating collaborative partnerships. As the primary state association designed to unite Kentucky's automotive manufacturers, suppliers and service providers, KAIA serves as a unifying voice that strives to anticipate and address common challenges and achieve shared goals. By creating a forum for best practice sharing, leveraging the expertise of world renowned automotive-related companies, the association seeks to further grow and strengthen the industry across the Commonwealth.
To learn more, visit http://kyautoindustry.com or follow the association on Facebook (https://www.facebook.com/kyautoindustry or Twitter (https://twitter.com/KYAutoIndustry).