KAIA AutoVision Conference Grows, Welcomes Top Tier Experts
GM chief economist, Local Motors executive among speakers at Lexington event
LEXINGTON, Ky. (July 5, 2015) – After last year's sold-out event, the Kentucky Automotive Industry Association (KAIA) is gearing up for an even larger, more dynamic AutoVision conference this fall. Registration is now open for the second annual AutoVision event to be held in Lexington on Sept. 12-13.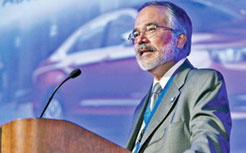 AutoVision 2016 offers a stellar lineup of national automotive leaders, presenting a broad range of topics including changing consumer demands, developing and investing in human capital, and disruptive technologies reshaping the manufacturing industry.
"AutoVision is a phenomenal opportunity for our auto industry leaders to learn from one another, sharing insights about everything from regulations to workforce," said Dave Tatman, KAIA executive director.  "We've built a quality conference that continues to attract top-level speakers and panelists, and this year is shaping up as an extraordinary collection of cutting-edge speakers and topics."
The two-day event, presented by the Kentucky Cabinet for Economic Development, includes auto industry leaders such as Local Motors general manager Greg Haye and General Motors chief economist Mustafa Mohatarem.
Local Motors, best known for its 3-D printed car, is an American auto manufacturing company using micro-factories to build cars based on open-source vehicle designs.  Local Motors reflects a new edge of technology-driven manufacturing in the automotive industry.  General manager Greg Haye will discuss Local Motors' motivation and techniques for producing cars in a revolutionary new way.
Mohatarem has served as the chief economist of General Motors Corporation since 1995, and leads a team responsible for analyzing economic growth trends and vehicle sales worldwide. He will offer an up-to-the-minute global economic forecast for the auto industry and interpret the impact of pressures such as consumer demands and federal regulations.
Main stage speakers and panelists from some of the world's top automotive manufacturers and support services will discuss topics including workforce development, technology and connectivity, and supply chain challenges.  A session will be devoted to a discussion on the impact of this year's presidential election on the manufacturing sector.
In its first year, AutoVision's world-class agenda attracted a sold-out crowd of industry executives, insiders and analysts for a two-day conference and exhibitor hall. The event earned rave reviews from attendees, speakers and exhibitors alike.
For a full list of topics and speakers visit http://kyautoindustry.com/AutoVision/.  Additional speakers will be announced throughout the summer. Premium additional events, such as a tour of the Toyota plant in Georgetown, will be available to a limited number of registrants.
Register now
Last year, AutoVision sold out well in advance of the conference, so attendees are strongly encouraged to register early. Early bird registration (before August 1) saves $50 per attendee.
KAIA AutoVision Conference
Sept. 12-13
Lexington, KY
http://kyautoindustry.com/AutoVision/
Save $50 by registering before August 1
Member registration - $299
Non-member registration - $349