AutoVision
Magazine
Kentucky Automotive Industry Association Publication
In support of its goal to advance, promote and grow Kentucky's automotive industry, KAIA launched an official magazine in fall 2016.
AutoVision Magazine spreads exciting news about one of Kentucky's leading industries through interesting stories, colorful photos and insightful graphics. It includes news and features to highlight KAIA members, automotive-related events and programs, and other industry news.
The free magazine is distributed to KAIA members, leaders of automotive producers and suppliers and their partner firms, as well as elected officials and economic development leaders throughout Kentucky.
Latest AutoVision Magazine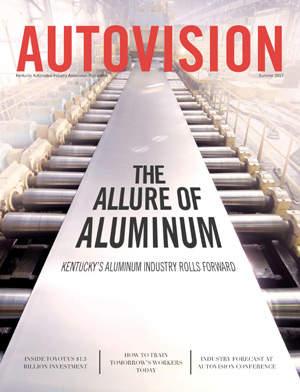 We want to tell your stories
AutoVision Magazine will share stories about the companies and people who are driving the auto industry in the Commonwealth. If you know of a company with an interesting story or an industry leader with great insight, tell us. Please also let us know if you have an upcoming event, an employee who deserves recognition or other news you want to share.
And don't forget to send high-resolution photos if you have them. Photos should be at least 300 dpi for quality reproduction.
Submissions can be sent to:
[email protected]
Want to advertise?
KAIA members are being offered the first opportunities to advertise in this new publication.
For more information on advertising, contact:
Innovative Publishing
844.423.7272 TOLL-FREE
888.780.2241 FAX
[email protected]

Click here to download rate information for AutoVision Magazine
Join our mailing list
To be sure you're on the list to receive AutoVision Magazine, click here to sign up for the mailing list.