KAIA Launches 'AutoVision' Magazine
Publication chronicles crucial and thriving state industry that employs 90,000 Kentuckians
FRANKFORT, KY (July 25, 2016) – No matter what kind of vehicle you drive, chances are good that it has Kentucky fingerprints – everything from wheel axles to sunroofs, and engines to exhaust systems are made right here in Kentucky.  Kentuckians have built vehicles and parts here in the Bluegrass State for more than a hundred years.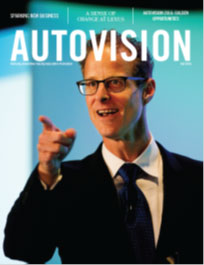 Because Kentucky's automotive industry is such a crucial part of our state's economy and the fabric of our communities, the Kentucky Automotive Industry Association has launched its first ever magazine, AutoVision. This quarterly magazine focuses on Kentucky's surging automotive manufacturing industry, the third largest in the nation. It profiles innovative suppliers, interviews national experts and offers tips to Kentucky managers on how to keep the best employees
"AutoVision highlights Kentucky's leadership in a key national industry and explores the successes and challenges facing Kentucky's auto manufacturers and suppliers," said KAIA executive director Dave Tatman. "Whether you're a plant manager worried about recruiting skilled employees, or an economic development official wondering how national automotive trends will affect local manufacturing, AutoVision has the answers you need."
The free magazine will be distributed to KAIA members, leaders of automotive manufacturing facilities and their partner firms, elected officials and economic development leaders.
Kentucky's automotive industry is consistently among the strongest in the nation, and is a vital leader of the state's economy. In 2015, the state's auto manufacturing sector:
increased production of passenger vehicles by 2.4 percent, to 1.3 million cars and trucks;
employed nearly 90,000 people statewide – an increase of nearly 5,000 jobs over 2014; and
announced 79 new projects totaling $2.8 billion in investments.
AutoVision shares its name with KAIA's annual conference, which will be held this year on Sept. 12-13 in Lexington, Ky.  This year's conference will feature a keynote presentation by Gary Silberg of KPMG on emerging automotive trends such as self-driving cars.  Silberg, the author of "Me, My Car, My Life", is KPMG's national sector lead partner for the automotive industry.   AutoVision magazine's first cover story is an interview with Silberg about how changing demographics and changing technology will affect the future of driving.
Other articles include a recap of KAIA's spring event, Spark, which connected suppliers with OEM and Tier 1 procurement representatives, reports on the latest new and expanding manufacturing facilities in Kentucky, and a profile of a KAIA member facility.
The magazine is committed to a fall and winter edition for 2016, with quarterly editions beginning in 2017.
If you'd like a copy of the magazine, or information about advertising opportunities, visit http://kyautoindustry.com/autovision-magazine/.
Registration information for the 2016 AutoVision Conference can be found at http://kyautoindustry.com/AutoVision/.