Auto Suppliers, Vendors Meet at inaugural SPARK Conference
KAIA event draws about 150 to discuss building supplier relationships
LOUISVILLE, Ky. (May 23, 2016) – Every vehicle model is made with thousands of parts and components, and thousands of companies are vying to supply those parts and systems to automotive manufacturers and Tier 1 firms. That reality is what sparked the idea for the Kentucky Automotive Industry Association's first event focused on bringing together suppliers and buyers.
The inaugural SPARK Conference was held Monday in Louisville with nearly 150 in attendance. The event drew attendees from 10 states and Japan. The presenting sponsor was Air Hydro Power.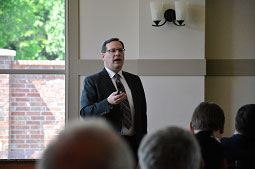 Michael Robinet, managing director of IHS Automotive, talked about the economic outlook for the nation's auto industry during Monday's SPARK event.
"One question we kept getting from our auto suppliers in Kentucky was, "How do we get connected to the OEMs and Tier 1 companies?" said Dave Tatman, executive director of KAIA. "We really wanted to focus on answering that question. We created an intimate event that brought together suppliers with the people who buy their products."
A key component of SPARK was a series of matchmaking sessions between smaller suppliers and procurement representatives from Kentucky automakers and larger suppliers. The one-on-one matchmaking sessions lasted 15 minutes each.
Tony Bryant, a representative with Pikeville-based Johnson Industries, said the matchmaking sessions were a great way to meet decision-makers at companies he otherwise might not reach.
Johnson Industries, a KAIA member, makes electric and diesel-powered vehicles used in the mining industry to transport coal. The company is now marketing a product that could be used in auto plants to transport parts and supplies.
"We are trying to diversify," Bryant said. "We met with Toyota, and we are meeting with Ford and a couple of others. We have a lot of good equipment. If we can make something for the auto industry, it would be great."
The SPARK event also included presentations and panel discussions from experts, including:
Lindsay Chappell, industry editor of Automotive News
Brian Miller, international trade specialist, U.S. Commercial Service
Leonard Fox, VP of Operations, Integrated Manufacturing and Assembly
Jean Marie Thrower, founder and CEO, Supplier Development Systems
Michael Robinet, automotive economy expert, IHS Automotive
Chappell, who delivered the keynote address, said SPARK provided a great opportunity for industry members to gain insights and build business relationships.
"This type of event generally offers the benefit of bringing together people who otherwise have no reason to get together," Chappell said. "I can go offer my product to you, but I can't go someplace with a lot of other people who are conversing, proposing and marketing to each other.
"It also illustrates the point that people all over the state in the auto industry have things in common," he added. "They have common issues. They have common challenges."
With information sessions on exports, cultivating diversity among suppliers and the economic outlook for the auto industry, SPARK also supported the overall goals of KAIA, Tatman said.
"It's an exciting time for the auto industry in Kentucky," Tatman said. "KAIA was created to advance and promote this growing industry, and we use events like SPARK to facilitate discussions about the challenges and opportunities that exist for our members."