Ford Futurist to Keynote Opening Session of AutoVision 2015 Conference
GM economist to discuss industry's road ahead during Tuesday presentation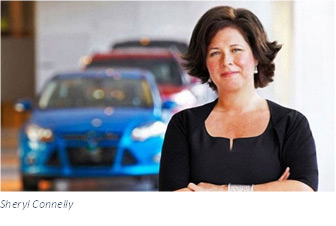 LOUISVILLE, KY (September 9, 2015) – Sheryl Connelly, Manager, Global Consumer Trends and Futuring for Ford Motor Co., will now offer her insights on the changing automotive industry during the conference's opening session on Monday, Sept. 14.
Connelly will present, "Focused on the Future: Predicting Consumer Demands, New Technologies and Design Innovations," from 2-3 p.m. Connelly had been schedule to speak Tuesday, Sept. 15, but the conference agenda was rearranged this week as a result of a scheduling conflict.
Mustafa Mohatarem, Chief Economist for General Motors Co., will now speak Tuesday morning. His presentation, "Boom or Bubble: What's Ahead for the Global Auto Industry," is scheduled from 10:15 a.m. to 11:15 a.m.
He will join more than a dozen industry leaders presenting at the conference Tuesday, including U.S. Deputy Transportation Secretary Victor Mendez. Mendez will deliver the keynote address from 12:30 p.m. to 1:30 p.m.
Time running out to attend conference
AutoVision 2015 is an inaugural event for automotive experts, manufacturers, suppliers and other business leaders from Kentucky and across the country. The forward-looking automotive conference will be held Sept.14-15 at the Louisville Marriott Downtown.
Among the topics to be discussed will be industry advances such as self-driving cars, lighter-weight vehicles and long-lasting electric batteries. Speakers at the event include leaders from Kentucky's major automotive manufacturers including Ford, General Motors and Toyota.
The AutoVision conference was created by the Kentucky Automotive Industry Association. The Kentucky Cabinet for Economic Development is the presenting sponsor of the conference.
More than 200 attendees already have registered for the limited-seating event. Some walk-up registrations may be accepted. However, to ensure registration, attendees are asked to buy tickets in advance. Get more information and register at www.autovisionconference.com.
About the Kentucky Automotive Industry Association
The Kentucky Automotive Industry Association (KAIA) was established to advance and promote Kentucky's automotive industry by providing leadership and creating collaborative partnerships. As the primary state association designed to unite Kentucky's automotive manufacturers, suppliers and service providers, KAIA serves as a unifying voice that strives to anticipate and address common challenges and achieve shared goals. By creating a forum for best practice sharing, leveraging the expertise of world renowned automotive-related companies, the association seeks to further grow and strengthen the industry across the Commonwealth.
To learn more, visit http://kyautoindustry.com or follow the association on Facebook or Twitter.