AutoVision a Huge Success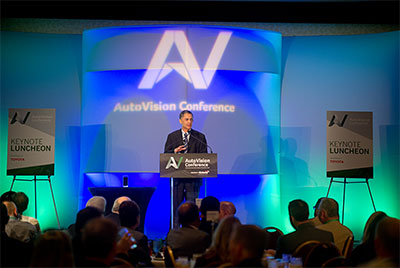 Our first-ever conference, AutoVision, exceeded our expectations, with a world-class agenda helping us sell out registrations. A post-conference survey confirmed the success, with 100 percent of respondents saying they would recommend AutoVision to others.
More than 240 people converged on the Downtown Marriott in Louisville, Ky., on Sept. 14 and 15. Manufacturers and suppliers represented at the conference included Akebono Brake, Ford Motor Co., General Motors Co., Robert Bosch Automotive Steering, Toyota and many more. Participants represented about 115 organizations, including all three of Kentucky's OEM's and 44 suppliers. Officials from various government and economic development entities also attended.
"Our speakers brought fresh perspectives to topics of common interest and challenged traditional thinking about how we forge new roads ahead for our industry," said Dave Tatman, KAIA executive director.
Industry executives, experts and analysts filled the two-day agenda. Participants also enjoyed a sold-out exhibitor hall and evening cocktail receptions, including one that showcased models from Kentucky's OEMs: Ford's Lincoln MKC, GM's Corvette and Toyota's Camry. Based on survey feedback, a larger, more integrated exhibitor hall is planned for 2016.
"We can't thank our speakers and panelists – many of whom are KAIA board members – and our sponsors and exhibitors enough. Without them, this conference could not have been as successful as it was," Tatman said. "We can't wait for next year."
If you can't wait either, sponsorships for 2016 are being developed now and will be available soon.