Ford Futurist Maps Road Ahead for Automotive Industry at AutoVision 2015
Inaugural auto conference draws more than 260 for first day of programs
LOUISVILLE, KY (September 14, 2015) – More than 260 auto industry leaders from Kentucky and beyond gathered in Louisville Monday for the first-ever AutoVision Conference.
The two-day event, a creation of the Kentucky Automotive Industry Association, is bringing together auto industry experts, manufacturers, suppliers and other business leaders to discuss the future of automotive manufacturing and hear about changes that lie ahead.
The presenting sponsor of the event is the Kentucky Cabinet for Economic Development.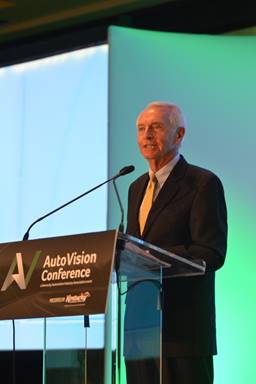 "I'm thrilled to see this conference come together and to see such a large crowd, because a strong and growing auto manufacturing industry is critical to the economic future of this Commonwealth," Gov. Steve Beshear said in his welcoming remarks. "The Kentucky automotive industry contributes $14.3 billion to our gross state product. That's one out of every $13. Auto-related products make up one-fifth of our exports. And the industry is linked to one out of every 18 jobs in Kentucky."
"No other industry drives our state and national economy like automotive manufacturing and supply," said Dave Tatman, executive director of KAIA. "We've had tremendous success building this industry, but it's important to look ahead for potential opportunities and roadblocks so that we remain on the fast track."
Experts talk about innovations, changing needs
The first day of programming included presentations by Ford Motor Co. Manager of Global Consumer Trends and Futuring Sheryl Connelly and Gary Silberg, KPMG's national lead partner for the automotive industry.
Connelly said Ford is identifying and following emerging trends such as the needs of aging consumers, changing attitudes and physiology of car buyers and the growing "information addiction" that is driving changes in technology offerings in vehicles.
"To be innovative, the challenge is to imagine a future that hasn't been imagined," Connelly said.
Silberg described how the industry using technology and innovation, such as the development of autonomous vehicles, to change consumers' lives.
"In our view, the winning companies are going to make your life better," Silberg said. "It's not just about mobility – getting from point A to point B – it's about the experience in the vehicle and the flexibility to do other things while commuting. The winning formula is one that allows the vehicle to seamlessly integrate into our connected lives to make things easier and make us more efficient."
The agenda Monday also included a panel discussion on developing lighter, more fuel-efficient vehicles. The panel, moderated by Richard Curless of Five Machining Systems Inc., included:
Tom Boney, Vice President and General Manager, Automotive Value Stream, Novelis North America;
John Cardwell, Global Account Manager, Arcelor Mittal;
Dale Brosius, Chief Commercialization Officer, Institute for Advanced Composites Manufacturing Innovation.
AutoVision will have a full day of programs Tuesday, including a keynote address by U.S. Deputy Secretary of Transportation Victor Mendez.
Others industry leaders participating in presentations and panel discussions include:
Mustafa Mohatarem, Chief Economist, General Motors
Doug Cain, CEO, Mubea North America
Pierre Abboud, President and CEO, Bosch
John Bradburn, Environmental Engineer, Chevrolet Europe
Lindsay Chappell, Automotive News bureau chief
Laurie Harbour, President and CEO, Harbour Results
Thomas Croskey, Executive Director Manufacturing Strategy and Planning, General Motors.
Get more information and register at www.autovisionconference.com.
About the Kentucky Automotive Industry Association
The Kentucky Automotive Industry Association (KAIA) was established to advance and promote Kentucky's automotive industry by providing leadership and creating collaborative partnerships. As the primary state association designed to unite Kentucky's automotive manufacturers, suppliers and service providers, KAIA serves as a unifying voice that strives to anticipate and address common challenges and achieve shared goals. By creating a forum for best-practice sharing and leveraging the expertise of world-renowned automotive-related companies, the association seeks to further grow and strengthen the industry across the Commonwealth.
To learn more, visit http://kyautoindustry.com or follow the association on Facebook or Twitter.